---
The Ranch House Cafe - Order Your Image Today!
Imortalize your wheels at the Enchanting Ranch House Cafe


The Ranch House is located in Olancha California on Hwy 395. The Ranch House Cafe has made California History being in business over 70 years.

Only 395 as in Hwy 395 will be created in the limited edition and each painting is as original as your car.

Example, 1 Car painted and framed in Painting.

Don't be left out of this special Limited edition! Order Now
Call Max for details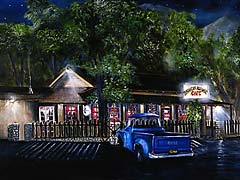 Oh, yes, you can buy this beautiful work of art without adding another vehicle (as shown in the smaller version above). Max has other locations available or he can use your custom location. Call Max now and have one custom framed for you!
Order Securely by Phone

760-340-6711

and checks accepted